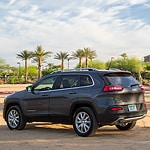 Need a vehicle with strength and excellent handling abilities? Check out the Jeep Cherokee. Equipped with multiple impressive handling and towing abilities, the Cherokee is sure to meet even your most difficult off-roading needs.
Trail rated and approved, the Jeep Cherokee can handle tough terrain like you've never seen! It's especially built for maneuverability, traction, articulation and ground clearance, perfect for taking out to the woods or up the jagged mountains. You can even tread water without fear, as this Jeep is fashioned to handle that, too. What's more is that the Jeep Cherokee can now tow up to 4,500 pounds when equipped with a specialized 3.2L Pentastar V6 engine, making hauling trailers and campers a breeze.
In summary, purchasing a Jeep Cherokee is worth the investment, especially if you are a driver who craves outdoor journey experiences. With its high towing capacity and undeniable handling abilities, the Jeep Cherokee is sure to provide you with more than you bargained for.